Every year 17,000 individuals in the United States face the uncertainty that comes with a sarcoma diagnosis. For these patients and their loved ones, the Sarcoma Alliance is a crucial source of guidance, education, support and connection. Facing this rare diagnosis together, we unite a community that requires special attention. The Sarcoma Alliance was founded to address the needs of this unique community.
The Sarcoma Alliance strives to improve the lives of people affected by sarcoma through accurate diagnosis, improved access to care, guidance, education, and support. Together we can make a difference.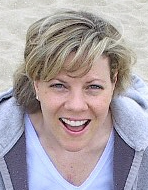 Suzanne Leider
Suzanne Leider, RN, founded the Sarcoma Alliance in 1999 in the living room of her home with the words "guidance, education, and support" in her head.
It had been four years after her own sarcoma diagnosis that she finally met another sarcoma survivor, Wendy Sommers, and she realized that sarcoma patients fall into a great void. Suzanne decided four years was too long to wait to meet a fellow survivor and decided to do something about it. With the help of friends, family and volunteers, the Sarcoma Alliance was born.
As a nurse, Suzanne focused on the care of the individual and quality of life. Her dream was for people with sarcoma to have the tools to fight this disease on physical, emotional, and psychological levels. As a patient and a healthcare provider, she understood the difficulties of navigating our healthcare system. She knew that creating a gathering place for those touched by sarcoma would diminish the isolation that accompanies this diagnosis. The Sarcoma Alliance has created a community that can no longer be ignored.
In March of 2002, after 10 years of treatment including many surgeries to remove metastatic lung masses, Suzanne made the decision to focus on comfort and quality of life with home hospice. She spent time with her beloved family and friends and died peacefully in August of that year at age 35.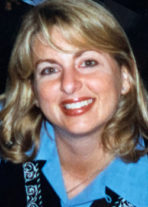 Wendy Sommers
At Suzanne's side was Wendy Sommers, who founded and operated the former Sarcoma Foundation. Working with Suzanne, she shared treatment information, wisdom, and inspiration with many individuals. After 15 years of living with sarcoma, Wendy passed away in March 1999.
Thanks to Suzanne, Wendy, and many others, the Alliance has brought vital resources and voice to the sarcoma community.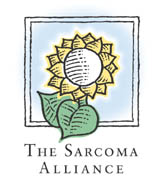 The Original Logo
designed by Wendy's husband, Kevin Plottner
Guidance
A sarcoma diagnosis can be distressing and confusing. As sarcoma survivors, we can help guide you and your loved ones through the complex maze of medical providers, treatment options, and information sources available to you.
Education
Few people know the ins and outs of cancer before they find out they have a sarcoma. We can bring you up to speed on the basics, refer you to authoritative sources for further learning, and help you plug into support networks for adults and children with sarcoma.
Support
It can be lonely finding out you have a sarcoma. We can connect you with others facing similar challenges. We believe the most successful patients are informed and connected to others for social support.
Sarcoma Alliance is a nonprofit 501c(3) organization. All services provided by The Sarcoma Alliance are provided free of charge.
An international nonprofit advocacy organization, The Sarcoma Alliance serves people affected by sarcoma, including the newly diagnosed, long-term survivors, family members, caregivers, and friends. It provides financial assistance to patients seeking a second opinion from sarcoma specialists and helps start sarcoma support groups. It works closely with the medical profession and other nonprofits.
Sarcoma does not discriminate by age, gender, or race. Every year, 17,000 individuals in the United States face the fear and uncertainty that comes with a new sarcoma diagnosis. For these patients and their loved ones, the Sarcoma Alliance is a crucial source of guidance, education, and support. We provide accurate information during those difficult initial days following diagnosis, financial assistance to help access quality care, and emotional support throughout the journey.
What makes us different from other cancer nonprofits?
We are the only international sarcoma advocacy organization whose focus is on providing guidance, education, and support for everyone affected by sarcoma. Instead of raising money for research, we empower patients and their loved ones so that they can understand and receive the best medical services.
Because it is rare, sarcoma gets little or no attention from many organizations that work with cancer patients. Most sarcoma nonprofits concentrate on a particular sarcoma subtype or a particular cancer center. We are the oldest sarcoma nonprofit not tied to one center or subtype.
Patient care initiatives include:
hosting in-person and online support groups
grants for second opinions from sarcoma experts
the latest in sarcoma news through e-communications
customized information about sarcoma subtypes, treatment guidelines, and clinical trials
engaging the sarcoma community in advocacy opportunities
offering one-to-one support to help patients access social and financial services
Sarcoma Exchange conference for patients