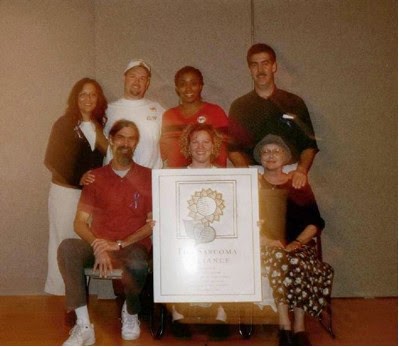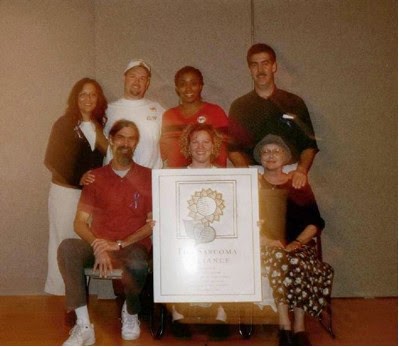 The late Suzanne Leider, co-founder of the Sarcoma Alliance, holds a poster at the first meeting. Dave Murphy is on the left. In back, from left, are board member Marita Tullius and Brian and Kendra Krause. Can you help us identify the man and woman on the right?
By Dave Murphy
After my wife was diagnosed with leiomyosarcoma in 1998, I joined the Association of Cancer Online Resource's LMS listserv. She died the next year, after her diagnosis was switched to malignant fibrous histiocytosis, and I joined ACOR's Sarcoma list.
Also in 1999, Suzanne Leider founded the Sarcoma Alliance. I first met her online and then in person. I began to meet other patients and their families and friends.
The Orthopaedic Institute for Children in Los Angeles let us have a sarcoma support group in the spring of 2001. After two monthly meetings, sarcoma survivor Kirk Souder said we could meet at his office in Marina del Rey. We met several times there.
Kirk, who had a marketing company, had done some work for the Wellness Community (a cancer-support organization now called the Cancer Support Community. He contacted the organization to see if we could meet there. A local branch didn't think we could get enough participants, but the South Bay Cities Wellness Community in Redondo Beach gave us a chance.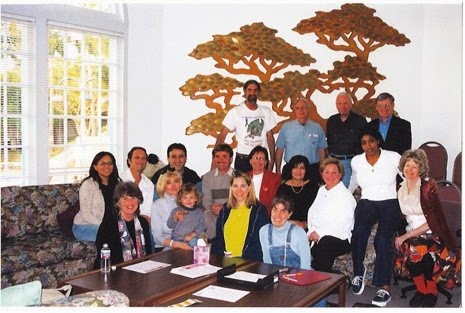 Sarcoma support group in Redondo Beach in 2003.
Our first meeting there was in 2002, the year I joined the Sarcoma Alliance's board of directors. The meeting attracted only three people, but by the end of 2003, we were well on our way to establishing a monthly group for support and information exchange. Networking is crucial for a rare cancer, especially in the days when so little information was online.
In 2004 I attended the American Association for Cancer Research conference as part of the Scientist-Survivor Advocate Program (SSP). Dr. Karen Antman, a sarcoma specialist who is now dean of Boston University Medical School, was AACR president that year. Her address was: "Sarcomas, A Model for Research of Less Common Malignancies."
In 2005 I was accepted to AACR's SSP program again, and my scientist mentor was Dr. Lee Helman, a sarcoma specialist who now heads the Pediatric Oncology Branch of the National Cancer Institute. I came back from the AACR conferences able to tell sarcoma patients that research is being done to benefit them. I could give them hope.
I waited another 10 years before reapplying to AACR. After the 2014 conference, I reported back on how whole genomic sequencing was changing research.
Meanwhile, our L.A. area sarcoma support group continues to thrive. The last meeting, on Sept. 13, had eight people with sarcoma and eight caregivers or family members. The Sarcoma Alliance continues to promote in-person meetings with others. To quote our mission statement: "The Sarcoma Alliance strives to improve the lives of people affected by sarcoma through accurate diagnosis, improved access to care, guidance, education and support."