List of Sarcoma Centers
The Sarcoma Alliance maintains a list of some of the medical centers and hospitals specializing in sarcoma. Because sarcomas are rare, it is important to find physicians who have experience with this disease.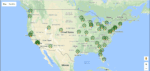 Many of the sarcoma treatment centers below can also be found on our interactive map of sarcoma centers.
International
Below is a list of International Resources for sarcoma, including patient advocate groups, professional organizations, and treatment centers. The treatment centers listed below have not been officially confirmed by our certification process.
Online
Below is a list of medical centers that offer online consultations with specialists.