Nick Javier
Just under two years ago, my father was diagnosed with Synovial Sarcoma at age 64. A lump began to form on his ankle, causing him tremendous amounts of pain. In less than a month after his diagnosis, the lump grew up to his knee cap, which led to the inevitable amputation of his right leg. Thus beginning the fight of a lifetime against a terrible beast that is cancer.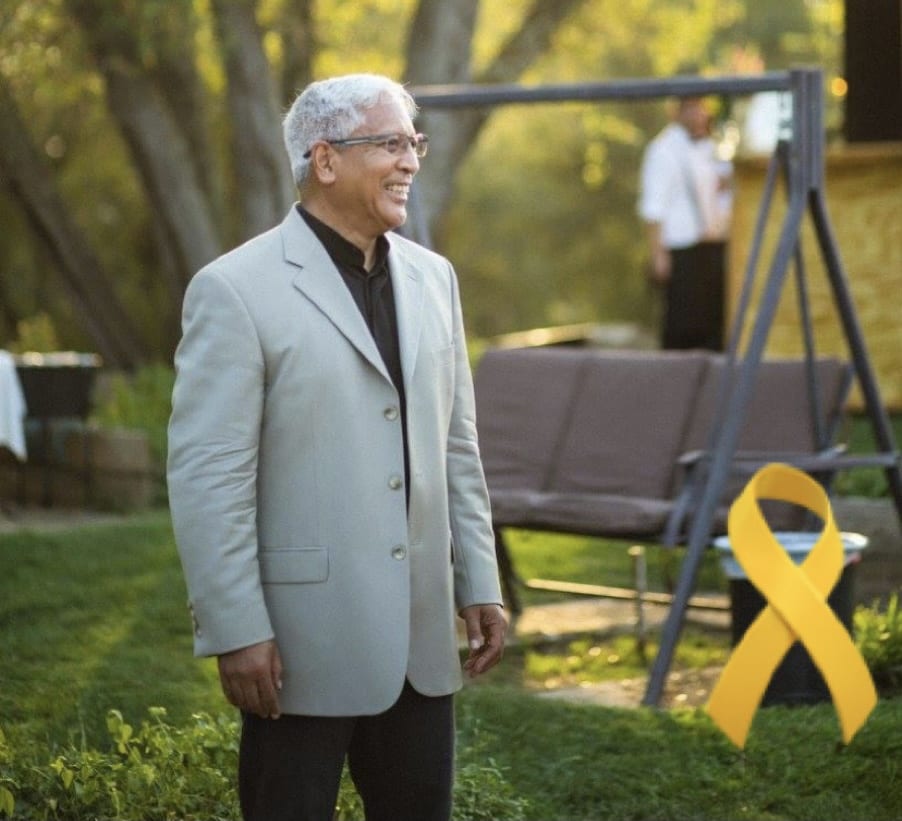 There are times in life where things just seem to go wrong at every possible chance. When all hope seems to be lost, and that just crawling up into a ball and hiding yourself from the world would just be easier. This is how I felt knowing that in my two years of college, both of my parents had been diagnosed with cancer. I was angry at the world, angry at God, and angry at everything. I didn't know how to interact with the people around me. Nobody understood how I was feeling. As someone who is always the most positive person in the room, I had never felt worse in my life. I just wasn't ready to lose my dad. What I went through, and am still going through was honestly the hardest thing that has ever happened to me. I wouldn't wish it for my worst enemy, but I wouldn't change it for the world. My dad was given an opportunity to show who he truly was, and not a day goes by that I am not amazed at how he handled his fight against his sarcoma. So I wanted to share what he taught me about myself and how I now choose to live my life.
What is a man? I've always thought that a man was someone who was tough, strong, popular, brave, and someone who did not let the world affect them. I thought that a man was someone who was unaffected by things like emotion, being hurt, jealous, scared, etc. I had this image that did not fit the description of who my father was, and that always bothered me a little. My dad did not know how to fix anything, or understand cars, or hunt or play football. He was a wedding DJ. He listened to music and talked with brides and grooms about their wedding plans, and was interested in technology. Basically not fitting the description I had in my mind about what a true man was. 
Every man is given an opportunity in his life to prove who he truly is. It is not for us to know when this opportunity will arise, and if we were to try and force this opportunity to prove ourselves, it would not be authentic. Every man is given his opportunity at the right time for the right reason. This was my father's time to show the world, his family, and most importantly himself just how much of a man he truly was. I do not think I would have been able to make it through the past two years had it not been for the true display of bravery and courage from my dad. This was his opportunity.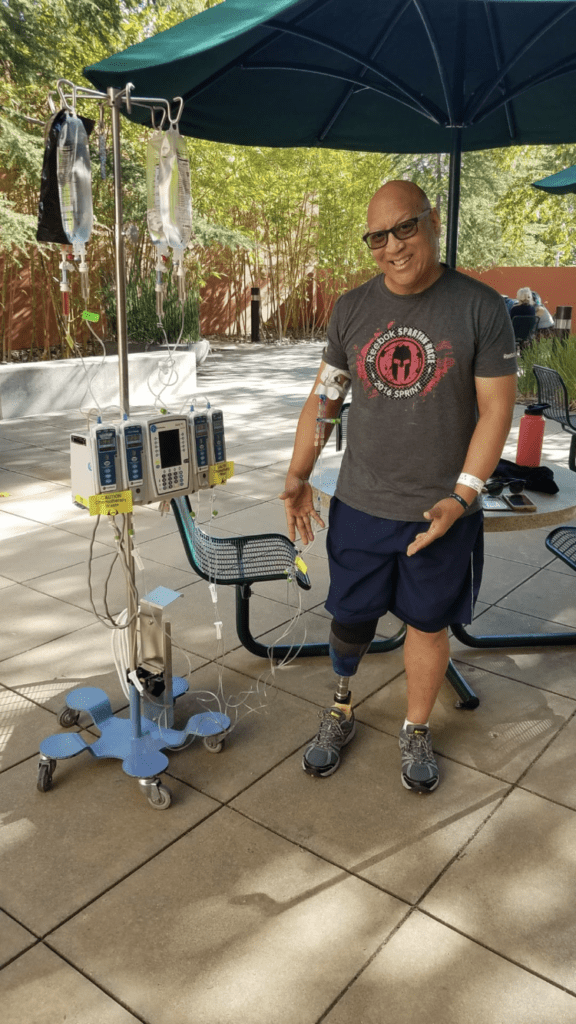 When dad found out that his tumor had overtaken his leg, he responded with one answer, "Take the leg." In a matter of seconds, without any reaction whatsoever, I saw my father accept the challenge of this cancer, and take his first step towards fighting back. With such calm confidence, a game plan began forming in Dad's head, and in that instant he was ready. No matter what the cancer threw at him, he never felt sorry for himself, never felt that he couldn't win and never gave up. Through three rounds of vicious chemotherapy, he was virtually unaffected. He smiled everyday, walked around the hospital making friends with other chemo patients, and gave wisdom to my brother and I everyday. He prayed with us, and told us that God had a plan for him, and that he was going to be used for something great. Our family even traveled to China in November of 2019, and Dad did the whole journey with one leg, inspiring everyone we met on the trip. Here was a man whose body was slowly turning against him, and he was not phased in the slightest. His faith never wavered, and his positivity never failed. He spoke often of people he met battling cancer and reached out to them periodically to see how their fight was going. All he wanted to do was spread joy and hope to everybody he met. It was the most beautiful thing I had ever seen, and at such a young age, it left a massive impact on me.
In October of 2020, we were told that he had less than 18 months to live. When I heard this, it felt as if a 500 pound weight had dropped from space and landed on my chest. Here I was, a 21 year old kid, and I was told I could have less than a year left with my dad. It was at that moment, I grew up. I had my breakdowns, and dealt with it in the best way I could. I got angry, sad, and confused. Shortly after receiving the news, my dad called me. He ended up calling me at the perfect time, when I was at my lowest point. He just listened to me as I got everything off my chest that I felt I needed to say to him. I expressed my fears, my pain, and my anger, and he just listened to me. When I was finished, he said, "Hagen, I am so proud of the man you have become. You can get angry, and throw things, and be upset at God, but it won't do you any good. This cancer is the toughest thing I have ever faced, but if I died today, I would want you to go out into the world knowing that there is not a thing you cannot accomplish if you treat everyone you meet with love and respect. Just do the best you can  in everything you do, and know how much your mother and I love you."
I will always remember him telling me this, because it was a true turning point for me. I was able to see that he spent his life trying to show my brother and me what a man does for his family. He showed us that a man faces his battles head on. Although he may be stricken with fear, he does not let that fear stop him. Rather, he uses it to prove to himself how strong he truly is. He showed us how a husband consoles his wife when she expresses her fears of losing him. He showed us how to comfort his family when they are struggling to fight their anger, confusion, sadness, and frustration. He showed us how a man lives his life for God, trusting the master plan that is laid before him. My father did all of this not through his words, but through his actions. He had no idea that he was putting on a clinic for his family for how they should react in the midst of such a horrible situation, he simply lived.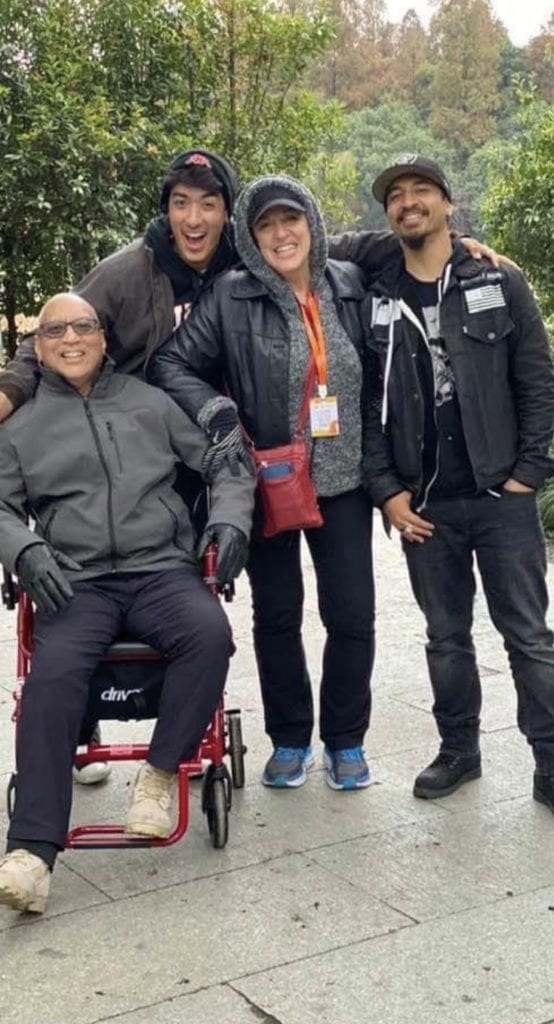 As the cancer continued to take over his body, causing tremendous pain, robbing him of nearly all functions, my father continued his faithful fight. He noticed every chance to express gratitude. He shared every bit of knowledge that he could with his boys. Through good days and bad days, Nick Javier remained the same man.
Many people do not think of what it is like to see your loved ones battle such a terrible cancer. They don't know how hard it is to feel fine physically, but broken emotionally. It was much harder for me because I am one of the few people to be blessed with a near perfect life. I have always had two parents who loved me, and loved each other. They always made sure to help me succeed, supplying me with whatever I needed. That is why, even in the midst of all this, I am still the luckiest man on the face of the earth. I know that every talk I had with my dad was worth more than gold. That all the hard times, laughs, cries, and learning opportunities mean the world. I got to see the truly important side of life, that so many pass up because they are lost in the mundane aspects of everyday life.
On February 4th, 2021, my father passed surrounded by the people that he loved most. Down to the last moment, Dad was watching out for us. He shared the perfect last words with each of us, making me laugh, passing the torch to my older brother, and comforting my mother. While I miss him dearly everyday, I am filled with joy knowing that he is in a better place, free of pain. I yearn for the day that I get to see him again, but know that there is much more that I need to accomplish here on earth. My dad passed on February 4th, which is World Cancer Day. Even to the end, Nick Javier had a plan.
I wanted to write this story from my perspective to advocate to anyone who may be going through any situation even remotely similar to mine. It's okay to be broken. It's okay to be scared. It is so tremendously important to feel whatever you need to feel. Life is meant to be difficult, for the sole reason of realizing what is important. There is nothing too big to accomplish. Make life worth living because you took the time to find what is truly important to you. No matter what is thrown at you, keep your faith, keep your strength. Live to give, and when you are faced with the opportunity to prove yourself, accept the challenge and shine. Just as my father did. Thank you.
– Hagen Javier #JavierStrong