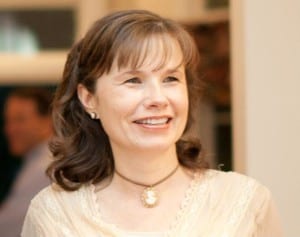 In December of 1965, after I had just turned 3, my mother started noticing blood in my urine.  A trip to our local family doctor would change all of our lives. My parents were told that I had a very rare form of bladder cancer with a 10 percent  survival rate.  I would learn later in life, after collecting my medical records, that the cancer had a name – rhabdomyosarcoma.
I was treated at Boston Children's Hospital – a 4-hour drive from my home in upstate New York.  My cancer therapy included investigational chemotherapy sponsored through an organization at Boston Children's, high doses of cobalt radiation and the surgical creation of a urostomy.
People have asked me if I have any memories of that time.  I tell them that I remember the "fun" things about having cancer.  At Boston Children's I would spend countless hours in the go-carts provided for the children.  My father would wheel me up and down the long hallways and sing to me with his deep booming voice, "Train to the farm chugga chugga choo choo."  There were the huge bags of cards from my church that my parents would read to me and I remember my sister bringing me the gift of one of her beloved dolls.
What I can't fully comprehend is what it must have been like for my parents, a minister and a teacher in their early 30, having to face this diagnosis and make decisions for my care that would affect my life in known and unknown ways. The treatments' side effects were many and would continue to manifest for years.
My father was the primary caretaker of my ostomy and radiation burns.  Today I call him my wounded warrior.  His devotion to the care of my physical wounds was courageous but it truly left his heart broken to see the pain I endured.  It is still a very raw experience for him.  Because my mother was not as close to my physical wounds, her gifts to me were very different from my father's. She was better able to see me beyond my illness and together we would get lost in a world of great imagination, dance, creativity and art.  This is the freedom that I used to joyfully explore and embrace my life and the world without feelings of limitations.
In my growing years I experienced bone pain, and difficulties with my colon causing multiple "stomach" aches and trips to the emergency room.  By the time I was in the 10th grade I had only reached a height of 4'8" and was 85 lbs. Hormone therapy gave me the height I was hoping for and today I stand tall at 4'11".  By the time I was 30 I had had multiple surgeries including bilateral hip replacements for bone necrosis, plastic surgery to my lower back to replace radiation burns, bilateral aortic bypass grafts for vessel necrosis and a colostomy for radiation-induced colitis. I tell people that this is the part of having cancer that I truly remember; the difficulties during those many years of healing through multiple painful surgeries.  It would leave me unable to work for almost 20 years.
I do not look at my life as a series of physical challenges.  I see my life as a series of beautifully chosen paths of self-discovery, a steadfast walk, a journey.  At an age before I could articulate this experience I remember extending my arms up to someone or something that had more of an appearance of light than of human form.  I have seen this light only a few times since those very early childhood years but I always feel it and know that it is with me and that I do not walk alone.
With an innate sensitivity I absorbed all that was going on in those children's wards at Boston.  I was surrounded by sick and dying children.  In the basement of our home, I set up my own little hospital. I lined up all the doll beds into two rows.  The IV bottles I would make from empty drink bottles and tubing I found in my father's workshop.  Some beds had oxygen tents made from plastic wrap.  All of my stuffed animals had their own charts where I would record their vital signs and my mother and I would make up names of diseases that we would put on empty pill bottles.  I threw myself into this world that I had created in the basement and all I wanted to think about and become was a nurse.
I feel that I had a very happy childhood.  I had my little hospital, wonderful close friends and I always had a best friend who knew my secret of having a urostomy bag.  I tap danced, participated in the drama club,  went to slumber parties, jumped endlessly on my pogo stick, played the flute in the high school band, took piano lessons, and worked hard in school.
I was accepted into nursing school at West Virginia Wesleyan College in 1981 and completed my BSN in 1985. My first nursing position was at Duke Hospital in the department of pediatrics.  It was at this time in my life that I requested my medical records from Boston and saw the word rhabdomyosarcoma as it related to me for the first time. This "rare cancer" that I had always heard it called — had a name!  I now felt a personal connection to this cancer and in an odd way felt as if I had discovered a buried treasure.  I wanted to know this cancer.  I needed it to have a name. I wanted to understand how it had become a part of me and how it had affected my life.  I stood frozen holding those papers as the realization of what I had survived sank in.
During my first year of nursing I had the opportunity to work with a 3-year-old boy who had been newly diagnosed with rhabdomyosarcoma.  He was facing many of the same things that I faced: chemotherapy, radiation therapy and a urostomy.  His parents, both in the medical field, were devastated.  They were fearful of the diagnosis but also fearful of their son having a urostomy, believing that it would change his personality.  A good friend encouraged me to share my story.  I had never before shared this part of my life with anyone beyond my family and close friends but seeing this family's daily devastation moved me.  I walked into their room, a "normal" appearing nurse, and walked out of that room with a lifelong bond and connection.
We have remained in contact to this day, sharing letters and stories and being a support for each other.  They have given me insight into what my parents must have faced and I have offered them hope and guidance along their own journey.  The boy is now a handsome 25-year-old in medical school. The importance of sharing my story 22 years earlier, and the strength of the resulting bond, was reinforced when he and his family attended my wedding in 2010.
I believe that when one survives a life-altering illness, you either run away from anything having to do with it or you run toward it in an attempt to understand it.  I continued to grow into my understanding of self through volunteer nursing in Third World countries, becoming a nurse massage therapist, and studying the healing arts.  All of these nursing encounters touched different levels of my being – body, mind and spirit.
One of the hardest things in my life was the loneliness I felt when my friends and colleagues began meeting their husbands and having children.  I knew that having children would not be a possibility for my life and I often wondered would anyone ever truly love a person with two ostomies and with significant scars that mapped out my life of physical illness.
A change of perception became my miracle when on a nature-based retreat I learned to use nature as a symbol for my life.  I was in Evergreen, Colo., high up among the bristle-cone pine trees, which stand bent and appear disfigured. Although they are not tall and straight, they have learned to survive a harsh climate by bending and twisting according to the way the wind moves them.  I came to see these trees as beautiful and a symbol of my own survival.  I came to my own truth, that one day I would find love and that person would also see me as truly beautiful. Five years ago I met my husband, who has been a firm foundation under my feet.  His love gives me the strength to continue to tell my story with confidence and a sense of ease.
After 20 years of healing from multiple surgeries and being told that I was too frail to work, I went back to school in 2005 and earned a specialty in wound, ostomy and continence nursing (WOCN).  I have been a WOCN in a small hospital for three years and have received great joy in being able to offer my patients hope in the face of a devastating illness.  With every patient I see I also experience personal healing. I believe that you cannot truly give to another human being without receiving the gift of self-compassion.
I feel a sense of joy in my life that others I know who have survived life-altering illnesses have experienced.  It is a kind of joy that comes from an unexpected place. It's a joy that says I would not change anything about what I have experienced or who I have become. It is a joy that comes from finding beauty in a wounded place. I adopted a name for this kind of joy from a friend who calls it Radical Joy.  When joy emerges and springs forth from a deep wound, a transformation has happened. Radical Joy moments happen all the time. Some break through after years of struggle and some are instant.
A Radical Joy moment for me was looking out over 200 faces while receiving the Great Comebacks Award.  I realized that I was making a promise to continue to share my story and I envisioned the healing that would come from that.  This is a new path, another adventure to forge and I embrace every moment.