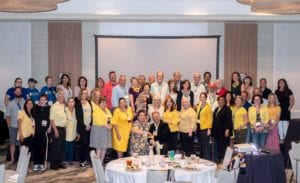 The Sarcoma Alliance presented the 2nd Sarcoma Exchange at the Miami Airport Marriott September 27-29, 2019. Participant feedback from the first pilot program was overwhelmingly positive and we expect this to be part of our annual programming.
The Sarcoma Alliance's Sarcoma Exchange is an educational event dedicated to sarcoma patients and the people who support them. This  special meeting is designed for sarcoma patients, survivors, caregivers, family members, patient advocates, and medical specialists to exchange information about current therapies and available resources, and develop relationships with others in the sarcoma community.
You may view the live video feeds from the 2019 Sarcoma Exchange here. 
Below are presentation downloads:
Special thanks to our 2019 Sarcoma Exchange sponsors: