Peer to Peer
The mission of the Sarcoma Alliance Peer-to-Peer Network is to facilitate positive relationships between individuals affected by sarcoma so that they may find emotional support, encouragement and information.
Sign up now using our online application!
Overview
The Peer-to-Peer Network began in 2005 and consists of individuals affected by sarcoma – Survivors, Caregivers and Loved ones – who wish to correspond with others in the sarcoma community. Currently the program has individuals from all 50 states and over 20 countries. It has both men and woman from teenagers to over 60 years old including survivors and caregivers. The Sarcoma Alliance matches peers based on the specific needs of the individuals, and the peers correspond on terms they each agree upon. Sarcoma Alliance staff are available to help participants experience positive matches and to update their participation when needs evolve.
How it Works
After you submit an online application and confidentiality agreement, a Sarcoma Alliance staff member will look for other members of the Network with whom you would be a good match. The staff member will contact you within five days to further discuss your needs and how to best help you.
Once you are matched, you will receive contact information so that you and your peer can communicate directly, under terms agreed upon by you both. These terms should follow the Guidelines for Participation presented in the application. We expect most peer matches to lead to positive relationships, full of support, encouragement and useful information, and we hope that the Peer-to-Peer Network will help you find a friend in the process.
Despite our best efforts, not all peer matches will be successful. Nor will all successful matches remain beneficial as the needs of the peers evolve. You should contact The Sarcoma Alliance if your peer match is not working out, and we will work quickly to meet your needs. You should also contact us if the information on your application no longer accurately reflects your needs. You are, of course, free to discontinue participation in the Network at any time.
The Sarcoma Alliance will periodically contact you to get feedback on the Peer-to-Peer program. These evaluations are an important tool to help us make improvements. We also welcome your feedback at any time. A printable information sheet (PDF) on this program is available. A paper application (PDF) is also available for submission by mail.
Program Partners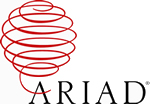 We are grateful for ARIAD's support of our Peer to Peer Program. Learn more about ARIAD.

The Sarcoma Alliance is pleased to announce that the Northwest Sarcoma Foundation is partnering with us to promote the Peer to Peer Program. The Northwest Sarcoma Foundation serves the sarcoma community in the Pacific Northwest. Learn more about the Northwest Sarcoma Foundation.