Peer-to-Peer Support
You are not alone
Since its inception, our organization has been firmly grounded in the belief that everyone with sarcoma should have access to the information, resources, and support they deserve–including connections with others. Our founder, Suzanne Leider, was diagnosed with synovial sarcoma at a time when information and resources for those facing sarcoma were few. She spent an entire four years looking for someone who was going through something similar before finding our co-founder, Wendy Sommers. Determined to ensure that others did not feel as alone as she did before meeting Wendy, Suzanne founded the Sarcoma Alliance. In 2005, our organization started our Peer-to-Peer program to facilitate positive relationships between those facing similar sarcoma journeys.
For the past 15 years, we have successfully connected people with others affected by sarcoma through our Peer-to-Peer program. The needs of our community, however, have grown beyond what we as an organization are able to provide. We value the power of human connection and believe that everyone with sarcoma deserves access to the best possible support system. This is why we have chosen to shift our Peer-to-Peer program to a partnership with Imerman Angels—an organization that focuses entirely on facilitating one-to-one support between cancer fighters, survivors, previvors, caregivers, and their loved ones.
The Sarcoma Alliance and Imerman Angels share the belief that nobody should face a cancer diagnosis alone. Connection is at the heart of everything our organizations do, and we are confident that the partnership we wish to establish will provide everyone with sarcoma more resources and opportunities to connect with one another. 
As part of this partnership, Imerman Angels will expand their programming to include sarcoma fighters, survivors, previvors, caregivers, and loved ones at any stage in their cancer journey. Anyone facing sarcoma who wishes to give or receive support will undergo a personalized matching process and be paired up with someone who has a similar diagnosis and experiences. Our hope is that peer-to-peer exchanges will facilitate positive relationships between individuals affected by sarcoma so that they may find emotional support, encouragement and information. In order to make this a reality, we need people to participate as mentors! If you are interested in giving support to others affected by sarcoma, please register with Imerman Angels by clicking on the button below. 
​
About Imerman Angels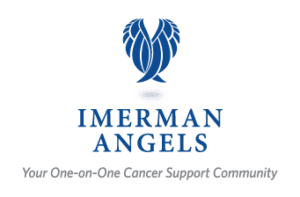 Imerman Angels was created on the belief that no one should have to face cancer alone and without the necessary support. Our mission is to provide personalized connections that enable one-on-one support among cancer fighters, survivors, caregivers, and previvors. Through our unique matching process, Imerman Angels partners anyone, any age, any gender, anywhere, and any cancer type seeking support with someone just like them – a "Mentor Angel". A Mentor Angel is a cancer previvor, survivor or caregiver who most importantly has faced the same type of diagnosis. Learn more about Imerman Angels.