By Suzie Siegel
New research on sarcoma will draw hundreds of doctors and scientists from around the world to a conference in Salt Lake City next month.
The international Connective Tissue Oncology Society (CTOS) will celebrate its 20th anniversary Nov. 4-7 at its annual meeting. Executive Director Barbara Rapp expects 600-700 people will attend.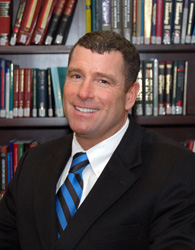 Dr. Lor Randall
"Treatment has evolved from trying to control the spread of sarcoma through surgery and radiation to standard chemotherapy to targeting the biology of different types of sarcoma as well as helping the natural biology of the individual patient," said Dr. R. Lor Randall, director of sarcoma services at the Huntsman Cancer Institute in Salt Lake City. He is a former CTOS president and its current program cochair.
"We are looking at which patients face the greatest risk of developing sarcomas and having the sarcoma spread. We are trying to detect this spread microscopically before tumors become visible via searching for tumor DNA in the blood," he said. "We also will examine the specific challenges facing adolescents and young adults with sarcomas."
CTOS has dubbed 2015 the Year of Angiosarcoma and Hemangioendothelioma, two related vascular sarcomas. Angiosarcoma survivor Corrie Painter, cofounder of Angiosarcoma Awareness, said: "I'm excited about the progress we're making in this aggressive cancer."
A scientist who has studied biochemistry and cancer immunology, Painter is associate director of operations at the Broad Institute in Cambridge, Mass. Each year, about 300 people are diagnosed with angiosarcoma, she said, and almost a third of them will die within five years.
For the first time, the American Association for Cancer Research (AACR) will hold a special conference on the "Basic Science of Sarcomas" Nov. 3-4, in conjunction with the CTOS. Participants will discuss recent advances in genomics using new sarcoma models, immunotherapy, metabolism and signaling pathways.
Once again, the Sarcoma Alliance has planned a dinner for patient advocates Nov. 4. "It's a great forum for advocates to talk to one another in person and discuss ways we can work together," said Executive Director Alison Olig, a rhabdomyosarcoma survivor.
The next day, the Sarcoma Alliance for Research through Collaboration (SARC) will discuss its tissue bank, portal for genomic data and progress in its clinical trials. Another first will be a symposium Nov. 6 to strengthen international cooperation among sarcoma nurses, arranged by a group from Oslo University Hospital in Norway.
On Twitter, you can follow the news by searching for the hashtags #CTOS2015 and #AACRsar15.