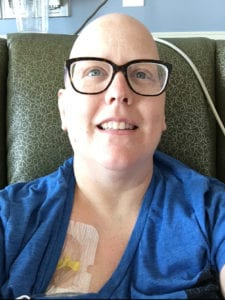 Describe your sarcoma journey in 3 words: 
Hard. Tiring. Eye opening. 
What do you want us to know about you?
I love being around kids, they make you laugh no matter what and they don't judge. I am a Disney fanatic and I love being there, it is my place to escape. I also love photography, and wish it wasn't becoming so hard to hold my professional camera for long periods. But most of all I am a happy person who can laugh through a lot of things.
How were you diagnosed?
I had noticed something on my vulva that I thought was an ingrown hair. I didn't think much of it and since I didn't have health insurance at the time, I didn't have it looked at. So, I let it get bigger and painful for six months before I finally got insurance through the ACA. I finally made an appointment for it to be checked. Immediately they were worried. They said it wasn't a cyst and they wanted to do a punch biopsy immediately to try to find out what it was. This was the beginning of March 2015. The waiting started, on my birthday March 13, I was sent an ominous message that said they were still testing the sample and we should know more next week. I went in to see my gynecologist the next week to get the results. It wasn't good it was cancer, they said it looked like a carcinoma but they didn't know what the primary site was. I was given an appointment at North Side Hospital with a gynecological oncologist to take over my care.
Tell us about your treatment:
My treatment has been long and has involved many things. The first thing I had to get done was the removal of the mass on the outside of my vulva and the glands on that side. They still didn't have an exact diagnosis for the type of cancer I had. It was obviously carcinoma but they didn't know where it started. There was no primary site known. Once I was healed, I was starting radiation to my pelvis with chemo once a week. Radiation and I weren't friends. I burned and I burned bad. It took longer then I was supposed to, because of my burns. After I finished my radiation, I was going to start my chemo treatments. Which would be six rounds, three days a month that would knock me down for multiple days. I was on cisplatin and etoposide, and as my oncologist told me I wouldn't make it through all six rounds, that to me was a challenge and I took it. My hair fell out, I gained weight, and I did pretty good on my chemo treatment. I also beat the challenge cause I completed all six rounds with no serious issues. One year from it all starting on March 10, 2016 I was told I was NED (No Evidence of Disease). Which was great because I was planning on heading back to Milwaukee at the end of May to be back with my family.
When I chose my new gynecologist oncologist at Froedtert Hospital I got very surprising news. It was August 2016 and I was told they didn't think it was a carcinoma but a sarcoma. She wanted me to meet a sarcoma specialist to discuss the issue. They got some of the original sample from Atlanta and they tested it, and it came back as a sarcoma. Which immediately set me off because I now had two different diagnoses. I asked for it to be sent to a third site to be tested so I could know for sure. They sent it to New York and it came back letting us know it was proximal epithelioid sarcoma. I was diagnosed and treated for the wrong cancer. We did follow up scans and there were spots in my lungs and liver that were suspicious but small so we were going to watch them and see what they would do. I made it one-year NED and just in time for my birthday I found out I had cancer in my brain and in my neck. Which meant canceling my trip to Disney that year and immediately start radiation because at that point they didn't think I had six months. The radiation was rough on me in a different way this time. It had me vomiting the first day and every day after. It was hard again but I made it through again, and my next scans showed they were stable, all we could ask for now. Within a month I found out from scans that I had more random spots showing up in my torso, so my oncologist decided to do a PET scan to try and figure out what was going on. Well I lit up like a light bulb, which meant back on chemo. I went on doxil, now I am one of those people that will get the 1% side effects, not the common ones. This drug literally made my skin fall off if it was on something too long. I had many open wounds from this drug. We had to switch me off that one pretty quickly, and I was switched to Doxorubicin and Olaratumab, that ended up being great. Yeah, I still had the fatigue and nausea but I was doing good on it. When I maxed out of the doxorubicin everything was stable or not visible anymore on scans so we decided to stay on just Olaratumab until I wasn't stable anymore. This got me to the end of 2018, when I started having extreme pain in my back where I couldn't sit and numbness that would come and go. They did MRI's and CAT scans, which didn't show anything new. My new insurance was saying a PET scan wasn't needed, and we were getting frustrated. They redid a scan of my brain and neck right before Christmas, and I was told my brain was clear. Later to find out the brain was clear, but there was something on the inside of my skull, not just one, but he had a little buddy under him. With this news I was finally allowed to get a PET scan and it wasn't good news. The PET scan came back with multiple places that showed cancer activity on my bones, the place on the base of my skull, both shoulders, a rib, and my spine. We now had a reason for the pain in my back that radiated to the front, which meant to ease that I would be headed back to radiation again, this time for the middle of the back. I had 10 doses to my spine, and did ok. I was feeling relief before we even finished the rounds which was wonderful. The day after I finished my radiation, I was starting an oral chemo, pazopanib. It had all the normal side effects listed, but I wasn't supposed to lose my hair this time, it was supposed to turn white so I was excited. Just so you know as I sit here and type this, I am bald, the hair started to fall out, 1%. We are hoping this will stabilize everything that is going on so I can have more time, because that is what our goal is.
How is your life the same or different now?
My life has changed a lot with everything happening. I was very fortunate to work for amazing places in East Cobb, Georgia and Milwaukee, Wisconsin. I worked for the first three years of treatment, but I finally had to make the decision to stop working when I couldn't effectively do my job anymore as a daycare teacher. That was hard because I have to keep busy. Which is hard to do because cancer causes so much fatigue that there are moments where you just crash and people don't understand. I try to walk when it is nice out and for Wisconsin right now that is 35 degrees and some sun. But it is hard to look back at me before cancer and realize how much of my independent spirit has been taken away from me and my freedom to do what I want when I want.
How have your relationships with friends and family been impacted?
I have said from the beginning you will know who is really there for you once the shine and newness are gone from your cancer. Who is still checking in on you, making sure you don't need anything, willing to give you rides to appointments, and just inviting you to places. I have a core group of people that are family and friends that keep me going. Others pop in and out but I know who are the ones truly there for me through thick and thin because of this.
What advice would you give to others impacted by sarcoma?
My biggest advice would be to live your life to the fullest. Think of all the things you've always wanted to do and start doing them. Don't forget the little things also because those are just as important. Sarcoma is a beast and is unpredictable so also trust yourself and advocate for yourself. Listen to your body because no matter what you are going to know something is wrong before your doctor, don't doubt yourself.
What's a random fact or piece of information you've learned along the way?
The fact that scared me the most during this adventure would have to be how rare sarcomas are and the lack of funding for it.
Favorite comfort meal?
This changes all the time, but most of the time it is tater tots, soup with good bread, rice, or pancakes. They just are simple not too spicy which becomes an issue and easy to make.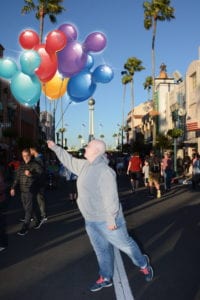 What books, films, or music would you recommend (Ones that have helped to carry you through your sarcoma journey or just ones that you'd recommend generally)?
This is a hard question but I think the thing I would recommend the most is making a cancer playlist. You will be spending a lot of time in chairs and bed and you will want music that makes you feel good. Some of mine are:
– Fight Song by Rachel Platten
– Show 'em What You're Made of by the Backstreet Boys
– Live Like You Were Dying by Tim McGraw
– The Fight by Taboo
– The Fighter by Gym Class Heroes
– Swim by Jacks Mannequin
-Breathe by the Backstreet Boys
-Stronger by Kelly Clarkson
Anything that really speaks to you, I am always adding on to mine. The other thing is finding a show you haven't seen that is done so you can start to binge watch it on your bad days.
Book-wise I would try to get physical copies to read because the screen will start to bother you as time goes on. I have never been that person who reads about another people's cancer journey because we are all different, read what you like to read.
What keeps you inspired/motivated?
For me the thing that keeps me most motivated is I want to see my amazing niece grow up. She is seven currently and is amazing. I want to see what the future holds for her.
How are you doing today?
I feel like this quote puts it perfectly for me, "I want to warn you that unfortunately my story doesn't end up wrapped up with a pretty bow." -Grace Bunke age 14 osteosarcoma. This quote by Grace who spoke these words at a Rally Foundation Benefit Bash speaks to me because that is me. I will not get to be free of this, when it is done, it means the cancer finally won, and I don't get to be a "Survivor," I will always be a fighter. I am fighting, I am fighting for time and chances to do things. I know I will never get to do everything on my bucket list but I wish I could get to more of them then I will. It is hard to be part of the rare cancer groups, you don't get the attention you should because others take the attention. Right now, all I can hope for is the treatment I am currently on will work, because if it doesn't, that is one less thing that I can try to keep this cancer stable. Daily I ask myself when is it time to say I am done and live out the time I have. But I can't because I have to be that person that beats the odds. So everyday including today is a fight, a fight to get up, a fight to do things, and a fight to find the good in the day.