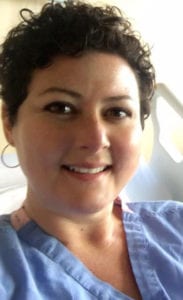 On an uneventful Sunday morning in April, my husband Matt and I had slept in and were lying in bed with his hand on my thigh. "What is this lump here?" he asked. I didn't know and rubbed my hand along my thigh, pressing down enough to feel it. It felt like a knotted muscle, but in an odd place. About the size of a Ping-Pong ball, there was no pain and you could not see it looking at my leg. I continued to wonder but was not concerned. I later joked that our catch phrase should be, "Have you felt up your lady today?"
In the spring of 2017, I was teaching second grade in an urban language center. My immigrant/refugee students came from all over the world, speaking 7 different languages. I loved the school I worked at, my colleagues, and teaching. I loved visiting the local breweries with my husband and hanging out with friends. I loved reading and traveling and teaching Yoga in the evening. My daughter Eden was a sophomore in high school; my son Wayne was in 6th grade. Both kids played sports and were very active with friends, especially my daughter and our French exchange daughter Marine, who was also a sophomore. My stepdaughter Taylor had finished college and was now an ER nurse. Both of my parents, being only in their 60s, had just retired and were finally living the good life. I had 2 unruly dogs and a very spoiled fat cat.
Monday morning at school, I had my teacher friends (we are quite close and I am not shy), "feel my lump". We all agreed it was strange but nobody was really worried. I made a doctor appointment for the next day.
My family physician was not in that Tuesday and instead I saw her Physician's Assistant. She felt it and noted that "it moves and is not too hard", most likely a lipoma. This was not concerning as Matt had a large one of these removed a few years earlier, no problem. Just to be sure (and thank God), she sent me downstairs for an ultrasound. That evening she called and said it was still a mystery, could I come the next day for a CT scan. Wednesday evening my regular physician called and said it was suspicious and could I come the next day for an MRI. Thursday I began to become nervous. The MRI was not as bad as I feared although once they had me choose a Sirius station (70s Rock, please) for the headphones, a commercial came on while I was in there and asked "Have you been recently diagnosed with cancer?" The next song that came on was Dust in the Wind. I asked if they could change it to Punk Rock.
Friday after work, I went to pick up Marine from soccer practice. I was early and brought a blanket to perch on the grass and watch the team. My doctor called. "We believe it is Sarcoma, a rare type of cancer". Fuck. I floated home in a daze, not even ready to cry.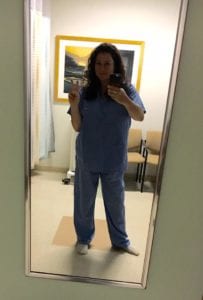 The next week was equally as hectic. I was sent to the local Sarcoma specialist, not a center, but a small team. I met with the whole team – 1. Orthopedic oncologist, " The tumor is just over 5cm each way. We need to remove it surgically as well as your femoral artery, nerve, and enough muscle to get clear margins", 2. Radiation doctor, "We need to do 25 rounds of radiation to shrink the tumor and make surgery easier", 3. Regular Oncologist, "After radiation and surgery, I recommend 5 cycles of Doxorubicin/ Ifosfamide – each cycle is a week in the hospital and then two weeks out", 4. Vascular Surgeon, "I will accompany the surgeon to replace your Femoral artery with a vein graft from your other leg". I had a brain MRI, a full body MRI, a biopsy, a fitting for the radiation mold, and a portacath surgically implanted. I had one last lung scan, which was clear. I came home and cooked dinner and continued to be a mom. Then I waited.
The time between that whirlwind and actually starting radiation was almost three weeks, too long in my opinion. Once it started, I went on short-term disability. My radiation team was top notch and I really enjoyed seeing them every day. Radiation was easy and on the last day we celebrated tumor shrinkage with gifts of Sangria for all the techs. My leg had a really bad sunburn but overall, it was relatively easy.
On July 18, I had surgery to remove the tumor. The tumor biopsy confirmed Synovial Sarcoma. They replaced the femoral artery with a vein from my other leg so I had two 10-inch scars running from my groin toward my knees. I couldn't lift my leg in the hospital which was odd and scary. The hospital and nurses were incredible, and I even found food on the menu that I liked. I left 4 days later, having opted for no further chemo, I was ready to put this all in the past.
Summer was beautiful that year and I laid outside in my new porch recliner reading and healing every day. I began physical therapy and was walking a bit. They removed my drains and stitches and slowly the bandages got smaller and smaller. Toward the end of August, I went back for scans. The thigh was healing nicely, the femoral graft was operating smoothly, the tumor had clear margins, but… there were 14 small nodules in my lungs. It had metastasized. Chemo was no longer an option, but a necessity.
I was transferred from the orthopedic oncologist to the regular oncologist. In the few months since we had first talked, a new therapy, Olaratumab, was showing success with sarcomas and he recommended I be treated with that and the Doxorubicin instead of Ifosfomide. I would be able to do this once a week as an outpatient. We made a short visit to University of Michigan Sarcoma center for a second opinion and they agreed.
My good friend Angie, a Salon owner, came to my house and cut off the long hair I had had my whole life. The first chemotherapy appointment was scary. It took three nurses to access my port, while I cried and shook and sweat. Finally, it was accessed and I was given intravenous Benadryl – the rest was a nice long nap.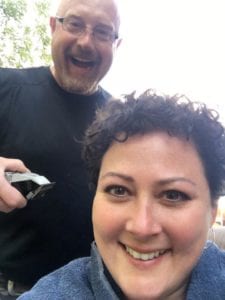 I had (and have) the same nurse every time, a young lady named Claire. She has been wonderful and kind and funny and made the next five months of chemo quite bearable. After my second treatment I noticed a few falling hairs and immediately had my husband shave my head. I remember the first time I walked past a mirror bald and caught a glimpse of myself. When did I become "that" cancer patient? How surreal.
Fighting cancer is not all bad. I actually found many wonderful things to be thankful for. For the first time in 20 years of teaching, I was able to be a stay-at-home mom. I could run a forgotten item to school. I could make everyone breakfast (though they quickly got sick of that fussing). I enjoyed making dinners because I wasn't rushed anymore. I missed my coworkers, but I still saw them out of school. I missed the kids, but public school teaching has become so stressful, so mingled in politics, that it honestly was not that fun anymore. When I could teach a lesson that I created, and it was just me and the students, I loved it- but there is so much more BS now.
In between treatments, my family traveled to Las Vegas and then to Utah to visit my sister and her family. We spent Christmas helicoptering in the Grand Canyon, dune buggy riding in the mountains, and seeing "out west" for the first time all together. My tumors continued to shrink and, through PT, I continued to improve walking.
2018
I finished chemotherapy at the beginning of February and my hair began to grow back. I remained on the Olaratumab infusions once a week, which had zero side effects and kept my one remaining lung nodule stable at a little less than 2cm. I was feeling fabulous but I stopped making progress in my walking ability. I had one episode where my leg seized up like a Charley horse and my foot turned cold and numb. After about a half an hour I was able to massage it back to normal but I was convinced there was something wrong with my blood flow. I saw the vascular surgeon and orthopedic surgeon again and had an ultrasound of my veins. The ultrasound tech seemed confused by the reconstruction of my leg and the path of blood flow. They concluded that it was nerves, and not blood flow.
They started me on nerve medicine and after a week I felt like a complete weirdo and quit. They gave me shots in my spine for the nerves, it did nothing. There seemed little I could do.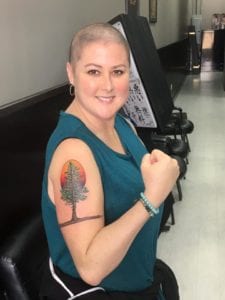 In June, I took it on myself to see a lung surgeon to have the remaining nodule removed. I had to stop the Olaratumab for surgery but it was completed successfully with clear margins. I was technically, momentarily, "cancer free". At my 6 week post-surgery X-ray, the surgeon said my lungs looked great and there was a shaded spot where the surgery was healing. Two weeks later I went for my regular CT scan and the oncologist team determined that the shaded spot was, in fact, new growth exactly the size of the scar site. Because the two offices couldn't agree, I decided it was time for another opinion.
My husband and I traveled to MD Anderson in September to see a Synovial Sarcoma Specialist at the Sarcoma center. I was scanned there and she agreed that the spot was likely scar tissue but that was irrelevant since two new spots had shown up. Her recommendations were, first, Ifosfomide for one-week in-patient in Houston, two weeks off to go home, repeat 6 cycles. Her second suggestion was Votrient, an oral targeted therapy pill. I chose the latter.
I have been "upping" and "downing" the Votrient ever since. They would like me on 800mg, but that is just too much for me. Last week, we traveled back to Houston for my 8-week scans and she told me that the tumors "Are just melting away". The largest has shrunk, a small one remains small, and the weird shaded spot has not changed. I'll gladly take these results.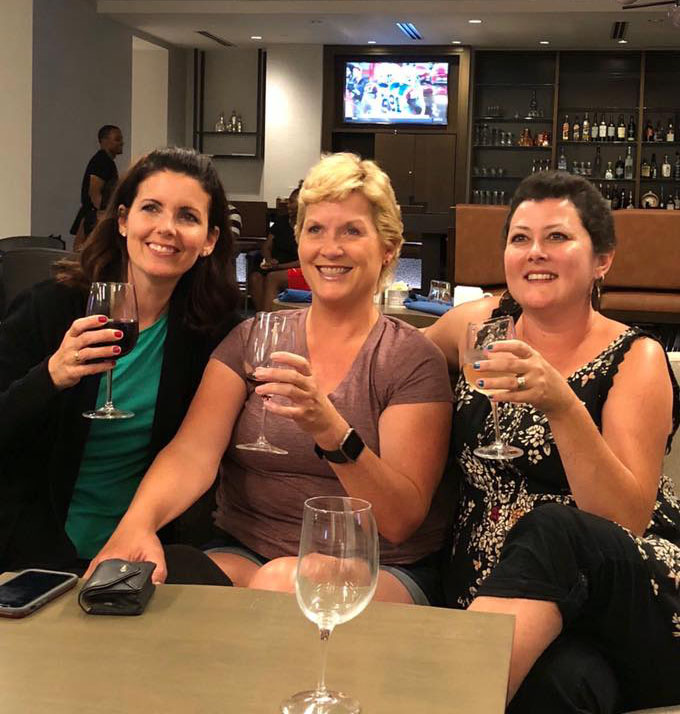 I am on long-term disability now as I work with the treatments and dealing with my leg. MD Anderson confirmed that I have limited blood flow and I'm working on ways to increase that. I am to return to Houston every 8 weeks for scans.
I am planning my daughter's graduation from High School and attending all of the 8th grade sports events my son plays in. My hair is growing back in a sort of Afro. In two weeks, we are taking a family vacation to Cuba where I went after college and have longed to return.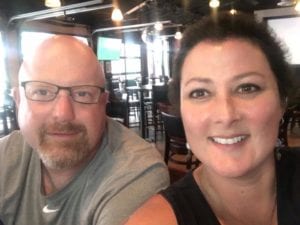 I have spent the last year and a half researching medicine, trials, and treatments. This has become my job and I'm oddly interested in it. I have learned that when I Google information, I always change the settings to "within last year". Old information on Sarcoma is disheartening, but new treatments are very promising. So far, I don't qualify for any of the trials I have looked into but I will keep looking. I continue to be active in the Sarcoma Alliance group, as I have met many incredible people there. The support of this group has been a Godsend and so far they have accepted my inappropriate humor. It has been such a comfort and wealth of real-time information while dealing with something that most of the world has never heard of.
All in all, I am good. My doctors and I don't discuss stage or prognosis, as I believe this to be based on the past and it doesn't help me get better. I treat each battle as a means to win the war and am thankful every morning that I can still fight with all of my Sarcoma comrades. 11/20/2018